Welcome to our new section #mSalesCHATS.
Here, we'll talk to referents of our industry to catch up about their news and updates.
In the first edition we'd love to introduce you to Luke Muscat, the first one to join our growing partners network a year ago.
Luke Muscat is General Manager at Muscatech, an IT services company based in Melbourne that partners with small, medium and large businesses to provide technology solutions across Australia.
Luke was the first partner of mSalesApp. 
He started working with us a year ago and since then, he has provided valuable feedback to improve our ecosystem.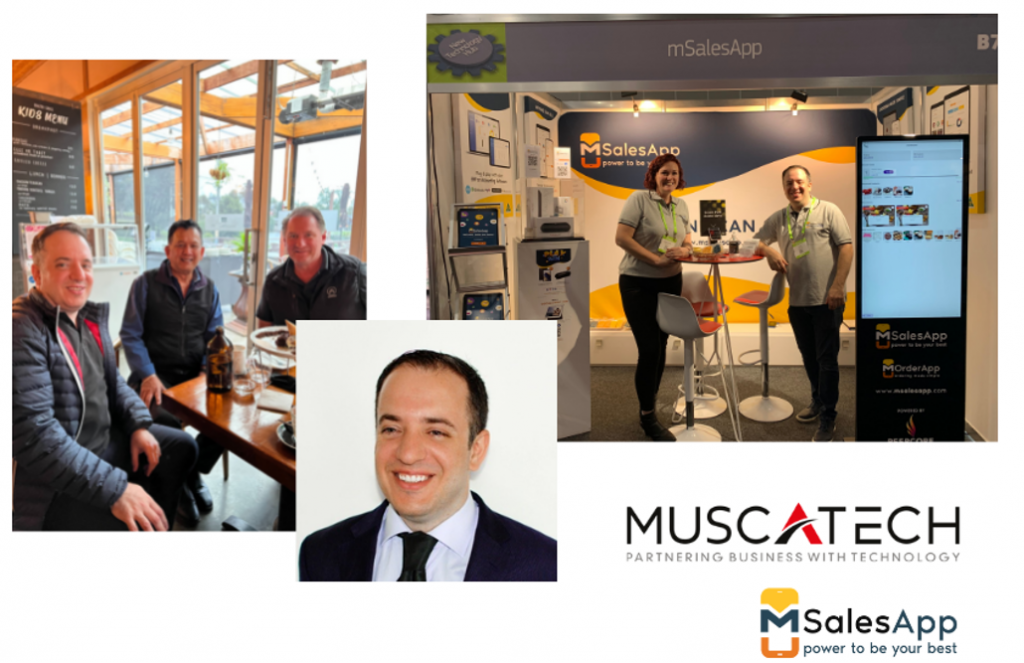 Partnering with mSalesApp​
We invited Luke to be our first guest at #mSalesCHATS, and these are some of the highlights that he said to us:
"What I like the most about partnering with mSalesApp is that the team is very open to suggestions and feedback. They are always looking to improve the solution in order to provide the best user experience"
"When it comes to the product, the promotions engine is where mSalesApp hands down stands out from any other mobile sales software I have seen.
It covers all the scenarios we can think of with any promo deals. It is easy to use, administrate & implement.
I highly recommend it".
During our chat, we asked Luke: "Why mSalesApp"?, and this is what he said:
"mSalesApp helps companies to create new opportunities by simplifying the sales process. 
Its advantages can be seen shortly after the implementation, such as:
– Immediate ROI – The productivity of the field sales teams increases by 20% on average when using the app.
– Efficiency gain – By reducing the time spent on orders, order mistakes, processing delays and customer complaints
 The main focus is to help customers sell more with less effort, and that's something any business is looking forward to achieving nowadays."
"As a partner, I get a high level of support when it comes to doing demos for new customers.
We've worked together in identifying possible opportunities, doing demonstrations and understanding the clients' needs, to make sure that mSalesApp can be of great help for them.
It's not only about having the right technology, but also understanding the business and how the clients' operate".
Find out more about Muscatech
Would you like to know more about Luke's company and what he can do for his clients?
mSalesApp Partners Network - Let's grow together
Partners are at the forefront of our growth strategy.
Our goal is to achieve outstanding results for our customers together with our partners.
We are building a partner network onshore and offshore, to provide local support and reach new customers in Countries or States where we do not have offices.
Our objective is to help them increase their revenue by selling and implementing mSalesApp Ecosystem.
We provide all the know-how and tools needed to promote and implement mSalesApp and we support them during the entire process.  
We have three levels of partnership based on services they offer and monthly revenue:
Our partners are IT Consulting companies who are already servicing distribution type of businesses. We are also keen to integrate with application software that is owned or resold by our partners so that they increase their offering. 
Our current integration partners are Xero, QuickBooks, MYOB, Microsoft Dynamics, SAP, NetSuite and Bileeta.
Interested in partnering with us?
We want to meet you! Get in touch with our team and let's discuss all the possibilities.